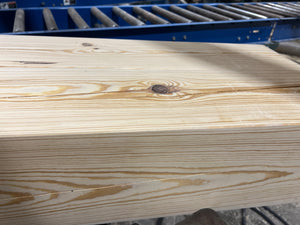 KD SYP Heavy Timbers Short Length Range (8' to 14' options)
Sale price Price $34.49 Regular price Unit price / per
Qty: 1 kiln dried Southern Yellow Pine timber of varient size below.  We offer 2x up to 16x timbers in length ranging from 8' to 28'.  30-34' available in green/air dried only and is quoted by request.   Please note we have different product listings based upon length range (Short = 8' to 14' options, Mid= 16' to 22', Long= 24' to 28')
Customer Note:  When ordering please specify finish you would like on the checkout page.  RS = Rough Sawn.  S4S = Surfaced 4 Sides with bevel chamfer edges. 
***Also, we offer volume discounts and freight shipping to the contiguous 48 states of America. When purchasing if you are ordering timbers and would like us to quote freight please leave a comment on the Order Page (Cart Checkout) with your shipping information and we will contact you with your custom quotation ASAP. ***
Both varients are resawn post kiln dryage or surfaced post kiln dryage to 1/2" under full dimensional all directions.  I.E. SYP KD 8"x10"x12' S4S timber = ~7.5"x9.5"x12'.
RS Option - Rough sawn resawn bandsaw faces post kiln dryage 
S4S Option - Surfaced 4 sides smooth on helical head  jointer/planer/moulder
As with anything in nature each tree has its own variations of color, tone, sapwood versus heartwood, knotting, etc.  You can expect similar color and tone as the photos above.  We cannot guarantee the color or grain figuring of each order due to the natural variations but we are confident that you will find our material to exceed your expectations.